Las 100 mejores series animadas
Recientemente el portal de entretenimiento IGN dio a conocer lo que a su juicio son las 100 mejores series animadas (Top 100 Animated Series). Algunas series son totalmente desconocidas para mí. Hay una ausencia notable, que es Don Gato, ya que en Estados Unidos no tuvo éxito y no tiene el valor que tiene para el público mexicano. La ubicación en la lista de algunas series conocidas:

97. The Smurfs
92. Rugrats
89. Star Wars: The Clone Wars
88. The Woody Woodpecker Show
84. Spider-Man (1994)
80. Alvin and the Chipmunks
74. Underdog
69. Mighty Mouse
68. Popeye
67. The Pink Panther Show
66. Tom and Jerry
61. Count Duckula
59. Spider-Man and His Amazing Friends
58. He-Man and the Masters of the Universe (1983)
55. Teenage Mutant Ninja Turtles (1987)
50. Super Friends
49. ThunderCats
46. The Jetsons
36. Superman: The Animated Series
30. The Spectacular Spider-Man
24. Scooby-Doo, Where Are You!
23. Transformers
21. Star Wars: Clone Wars (2003)
20. Justice League Unlimited
19. G.I. Joe
13. X-Men
11. The Rocky and Bullwinkle Show
9. The Flintstones
4. South Park
3. Looney Tunes
2. Batman: The Animated Series
1. The Simpsons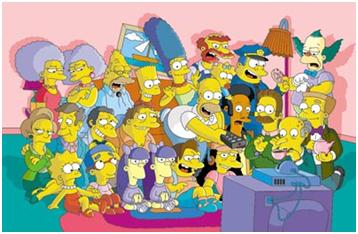 La lista completa se puede consultar aquí.